Wild Photos As New York Snowfalls Over 6 Feet Amid Zero Visibility Storm
Buffalo, New York and surrounding cities, which received over 6 feet of snow, were hit by an historic lake-effect snowstorm this weekend, with the Buffalo Bills moving their Sunday game against the Cleveland Browns to Detroit.
The excessive snowfall "will result in near zero visibility, very difficult to impossible travel, damage to infrastructure and potentially crippling communities hardest hit," the Weather Prediction Center said Saturday morning. The National Weather Service (NWS) also updated snowfall totals as of 1:30 p.m. showing Orchard Park, New York, being received 77 inches of snow.
Meanwhile, videos posted to social media show the extent of the snowfall, with one video showing snow reaching near the top of a stop sign and another showing a wall of snow as someone opens their garage door.
According to the NWS, lake-effect snow is formed "when cold air, often sourced from Canada, flows over the open waters of the Great Lakes."
"As the cold air flows over the unfrozen and relatively warm waters of the Great Lakes, heat and moisture are transferred to the lowest part of the atmosphere. The air rises, clouds form and grow into a narrow band that produces 2 to 3 inches of snow per hour or more," the NWS added.
Buffalo broke its record for most snow in a single day with 16.1 inches falling on Saturday. The previous record was set in 2014 when 7.6 inches fell during the historic and deadly Snowvember event.
Buffalo was hit by lake-effect ribbons of snow Friday when a "wall" entered the city at about 11:30 p.m. New York Gov. Kathy Hochul reiterated efforts to keep New Yorkers safe Saturday, tweeting that people should stay off the streets to allow first responders to plow and provide necessary resources to those who need them .
Meanwhile, the National Guard arrived in Lake Erie County Saturday to help pick up and deliver people who needed dialysis treatment. A travel ban for parts of Erie County remains in effect, according to the county website.
Hochul declared a state of emergency for western New York Thursday morning ahead of the storm. At a briefing on Saturday, the governor said, "Because we were so pre-emptive on this strike, we were able to avert a lot of tragedy."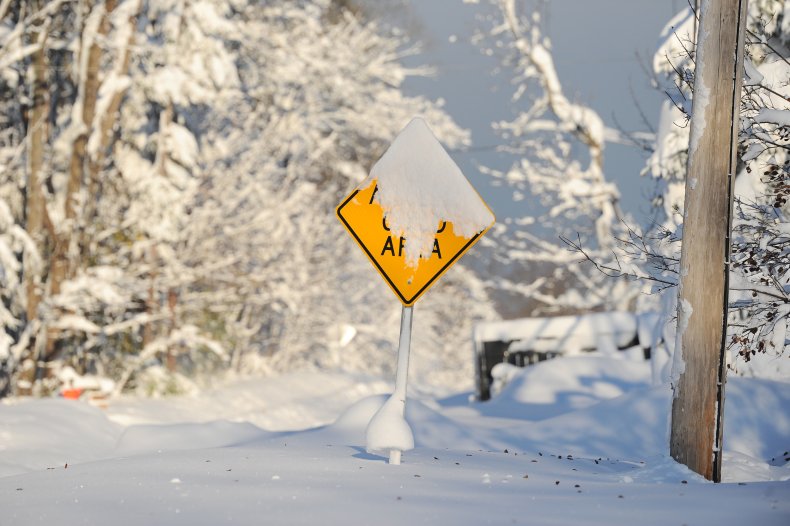 Travel plans around the Thanksgiving holiday could also be disrupted by a "substantial storm forming over the middle of the country," AccuWeather said Saturday, adding that the storm could affect major travel hubs Chicago, Atlanta and New York .
"While the days leading up to Thanksgiving and the holiday itself are expected to feature largely dry conditions in the mid-Atlantic and Northeast, conditions can change quickly as holiday shoppers look for deals next Friday," said AccuWeather forecaster Brandon Buckingham.
news week has asked various meteorologists for their opinion.
https://www.newsweek.com/wild-photos-new-york-snowfall-tops-6-feet-amid-zero-visibility-storm-1760877 Wild Photos As New York Snowfalls Over 6 Feet Amid Zero Visibility Storm