Will Putin impose martial law? what we know
Lithuanian Defense Minister Arvydas Anusauskas is among those who believe Russia will impose martial law once the current electoral referendums in Ukraine's occupied territories are over.
"I think that the rumors about the introduction of martial law in the border areas, whether they border Ukraine or elsewhere, are not just rumours," Anusauskas said on Monday, according to Lithuanian radio and television. Martial law will follow voting, which started last Friday and is expected to end on Tuesday, Anusauskas predicted. Referenda are currently taking place in the four regions of Luhansk, Donetsk, Kherson and Zaporizhia.
US President Joe Biden and European Union foreign policy chief Josep Borrell have expressed doubts about the legitimacy of the referendums, with Biden calling them "sham" votes that violate the United Nations Charter.
"You go in. They set up puppet governments, local governments. And then they proceed with a vote, which they will certainly rig to try to declare the territory Russian territory," US Secretary of State Antony Blinken said during a 60 minutes Interview that aired on Sunday. "It's not. It will never be recognized as such. And the Ukrainians have every right to take it back."
The mobilization of some 300,000 reservists ordered by President Vladimir Putin last week has provoked violent reactions across Russia and the surrounding areas, including protests in some of the country's largest cities.
Scores of Russian men drafted into combat have attempted to leave the country and face the potential consequences of 10-year prison sentences. Videos have appeared online showing drunken men being called to the conflict while others say an emotional goodbye to their families.
Attacks on Russian military recruitment centers have also increased.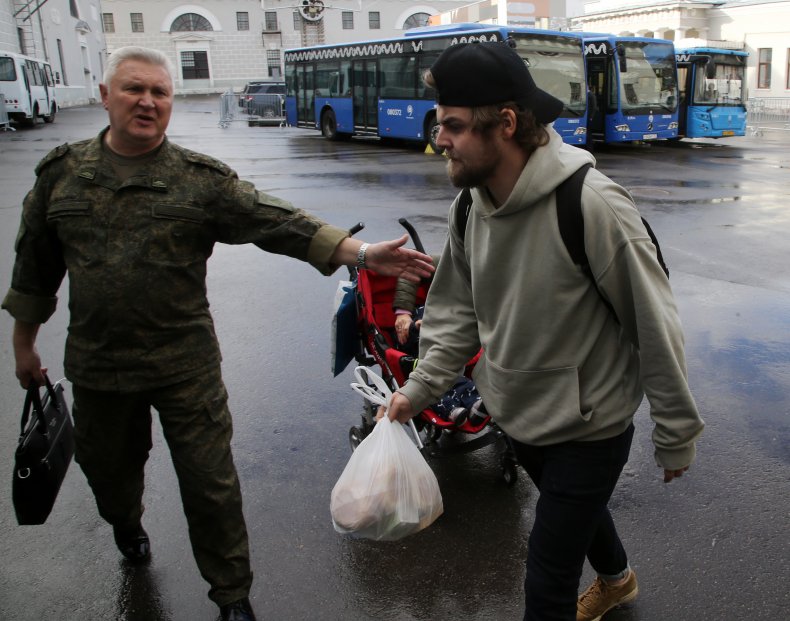 Russian media outlet Meduza, citing two Kremlin sources, reported that Russia will close its borders on Wednesday to ban men of draft age from leaving the country.
Russian Presidential Spokesman Dmitry Peskov on Monday denied that talks on martial law had taken place at the highest level of government, Russia's state news agency Tass reported.
"I don't know anything about it," Peskov said, adding that mobilization of transport was not considered either. "No decisions have been made at the moment."
A report released Sunday by the Institute for the Study of War, a defense and foreign policy think tank based in Washington, DC, says Putin's mobilization order is unlikely to have the intended impact.
It said the decision, taken on September 21, while adding an additional workforce, will result in inefficient and higher domestic, social and political costs.
"Russian President Vladimir Putin is unlikely to overcome fundamental structural challenges as he seeks to mobilize large numbers of Russians to continue his war in Ukraine," the report said.
news week reached out to the Kremlin and the US State Department for comment.
https://www.newsweek.com/will-vladimir-putin-impose-martial-law-russia-1746370 Will Putin impose martial law? what we know