Woman brutally beaten on New York subway by suspect with long record of physical violence, including murder of his grandmother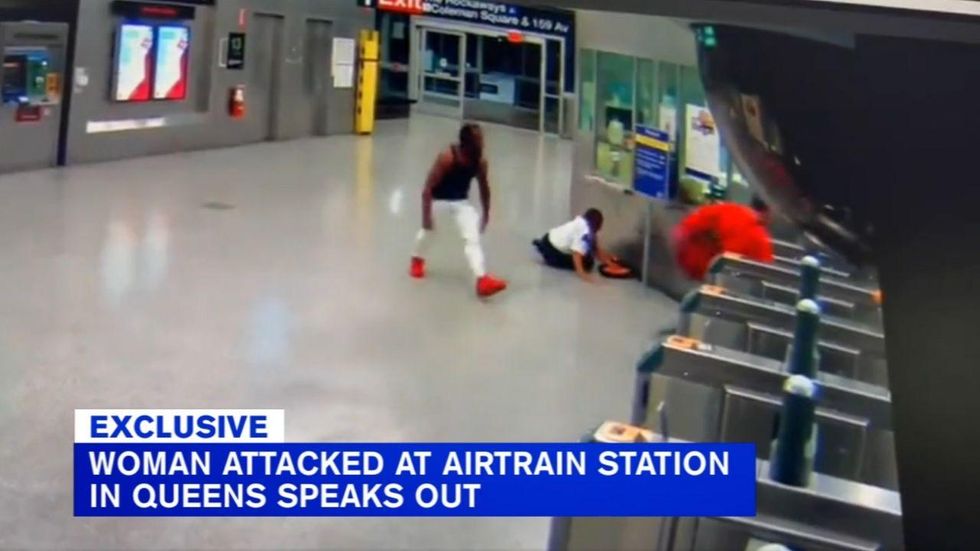 A woman was brutally beaten on the New York subway last week by a man long ago arrested for physical violence, including the 1995 murder of his grandmother.
On September 20 at around 5:15 a.m., 33-year-old Elizabeth Gomes was attacked by a stranger at the Howard Beach-JFK Airport station in Queens.
The vicious attack was caught on surveillance video and showed Gomes attempting to escape from the suspected man.
The suspect, 41-year-old Waheed Foster, allegedly tried to strike up a conversation with Gomes but became frustrated when she ignored him.
Video shows the man chasing the woman as she runs across the mezzanine. The man grabs Gomes and slams her against the wall where she falls to the ground.
While Gomes is still on the ground, the man punches and tramples her five times. Another man approaches the conflict but flees as soon as the suspect turns to approach him.
Video shows the suspect turning his attention back to Gomes, who is now on her knees. He slowly approaches her and bends over her for a moment before kicking her five more times.
Police responded to the scene and arrested Foster. Gomes was taken to the hospital, where she was treated for a serious eye injury.
In an emotional interview with WABC-TV, Gomes recounted the events of that morning and spoke about her injuries.
"Do you know how scared I am now? I've never been a scared person," Gomes said.
The victim explained that she could lose sight in her right eye. She said: "I honestly can't see anything on my right side. And it just hurts."
Gomes noted that her head was still pounding from the attack and she had hardly slept in a week.
"Man, I watched the video and it breaks my heart," said the victim's husband, Clement Tucker.
The victim explained that the man who attacked her mumbled incoherent nonsense and spoke of "Satan" before grabbing her and hitting her.
"Every day is an incident on the subway," Gomes said. "What happened to all those cops they said will be there to protect us? It's almost impossible to find anyone. I do not understand."
Following the attack on Gomes, Foster was charged with assault and is currently being held without bail.
In 1995, aged just 14, Foster was arrested for beating and murdering his 82-year-old foster grandmother. Ariela Masha. She suffered 20 broken ribs, a stab wound to her leg and a punctured liver. He later confessed to the murder and was convicted.
Foster was arrested six years later for stabbing his sister with a screwdriver.
Foster was arrested again in 2010 when he assaulted three staff members at a psychiatric facility where he was being treated. Police said he hit two workers and stabbed another in the cheek and shoulder. For this attack, Foster was sentenced to probation until November 2024.
https://www.theblaze.com/news/woman-beaten-subway-suspect-violence Woman brutally beaten on New York subway by suspect with long record of physical violence, including murder of his grandmother