Xi Jinping's predecessor left party congress, internet splits
Chinese President Xi Jinping's predecessor Hu Jintao was escorted out of the 20th National Congress of the Chinese Communist Party on Saturday in an unusual move that has divided opinion.
The former president was ushered out of the closing ceremony of Congress by stewards, who escorted him from his seat on the stage, but he appeared reluctant to leave the event.
Hu had been sitting to Xi's left in the main hall of the Great Hall of the People in Beijing, and the 79-year-old reportedly appeared frail, prompting speculation about his health.
However, some social media users also suggested Xi could have had Hu removed to assert his own authority. Xi is set to be re-elected General Secretary of the Communist Party this weekend.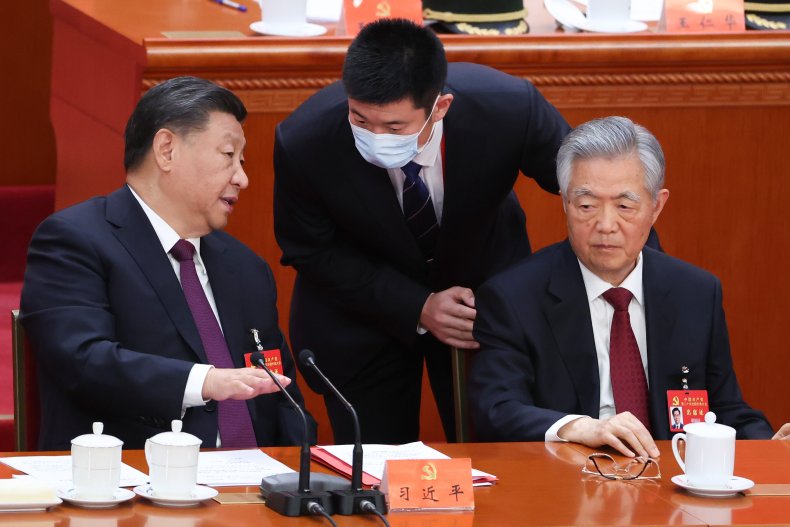 Xi is also expected to begin a third term as China's president in March, which would break with the country's norms.
The BBC's China correspondent Stephen McDonnell tweeted: "What on earth is going on when the former leader of #China #HuJintao is told to leave after the first session? Looking at the footage, it looks like he doesn't want to leave. What does he say about #XiJinping? What does he say to #LiKeqiang?"
Hu appeared to be speaking with Chinese Premier Li Keqiang on his way out.
McDonnell suggested Hu's health might be the reason he was brought out, adding, "Only two possibilities really: power politics on display or #HuJintao is pretty sick. From the body language of those on his left, Li Zhanshu, etc., I think most likely his health is not good."
Danson Cheong, Beijing-based correspondent for The Straits Times, shared a video of the scene and wrote: "Early drama: Hu Jintao was seen being led out just after reporters were ushered into the main hall."
"Most unusual, Hu didn't seem to want to leave," he added.
"What is going on here with former Chinese Premier Hu Jintao?
*worried*," wrote Mark Stephens, chairman of Nonprofit Internews.
"This is the last thing I expect anyone to see former President Hu Jintao being hauled away before Xi Jinping gets a third term/bangs down the door to president for life," wrote Rupert Myers, a British lawyer and political figure Commentator.
Ananth Krishnan, correspondent for the hindu, shared a video of the incident, writing, "Clearer footage of Hu Jintao exiting the closing ceremony, who seems to me both uncomfortable and unwilling to leave."
Chris Zappone, digital foreign editor at Age, wrote that Hu was "essentially marched out of the Great Hall of the People – while Xi looks on calmly."
"Recordings showed that staff first picked up Hu Jintao's glasses," Zappone added in another tweet, sharing a video of the incident. "When Hu Jintao tried to help him, he withdrew his right hand, and then Hu Jintao reached out to take the document on Xi Jinping's stage, and the staff immediately stopped him. After that, Xi Jinping turned his head."
Tom Hancock, China economics reporter at Bloomberg, wrote that the makeup of the new Communist Party Central Committee "is currently being overshadowed by the remarkable sight of Hu Jintao being led away from Congress without explanation."
AFP's senior business editor, Laurent Thomet, noted that whatever the reason, Hu's resignation was important.
"Whatever the reasons, the symbolism is enormous: Two-year leader Hu Jintao and the successor system he embodies are being escorted out of the building. The new era," wrote Thomet.
news week has asked the Chinese Foreign Ministry for comment.
https://www.newsweek.com/xi-jinpings-predecessor-led-out-party-congress-divides-internet-1754036 Xi Jinping's predecessor left party congress, internet splits