Senator Mitt Romney snarled at fellow Republican senator Ted Cruz during the Jan. 6, 2021 Capitol riots, according to Cruz's new book, due for release Oct. 25.
The Texas Senator makes the claim Corrupt Justice: How the Left Armed Our Legal System and writes about his decision to object to the certification of the Electoral College's votes in the 2020 presidential election.
In his book, Cruz described how senators and members of the House of Representatives left their Jan. 6 joint session to allow each chamber to debate objections separately.
As Republican Senator James Lankford spoke, "there was an uproar outside the chamber."
"Suddenly, Capitol cops rushed in and hastily escorted the vice president off the dais," Cruz wrote. "Shortly thereafter, we suspended the proceedings. In the fog of confusion it was difficult to say exactly what had happened.
Cruz and the other senators were initially ordered by Capitol police to remain in the chamber, but were then told to evacuate and go to a safe, undisclosed location.
"In the safe place, the mood was high. Many senators were afraid," wrote the Republican.
"Others were angry. Amid the chaos, more than one senator expressed anger at those of us who objected to the election being confirmed, and specifically blamed us for the violence," Cruz said.
"As we evacuated the floor, Mitt Romney approached me and the other holdouts
and said with a snarl, 'You got us that!' And the Democrats were even angrier," he wrote.
news week has reached out to Senator Romney's office for comment.
Cruz went on to say that some of the Republicans who supported objections to the electoral college vote "argued in the face of the insurgency that we should sit out our objections and vote to confirm the election."
"I got the feeling. But I vehemently disagreed. I have urged my colleagues that the course of action we advocate is the correct and principled one," he wrote.
At the time, Cruz quoted himself as saying, "I'll be damned if I let this happen
a handful of violent rioters to change our willingness to meet our constitutional responsibilities."
"When they stormed the Capitol that day and attacked police officers, these rioters wanted to stop the government from working; I didn't want to allow them," the senator said in his book.
Cruz eventually voted to oppose the certification of Arizona and Pennsylvania electoral college votes. The election results were eventually confirmed by both houses of Congress when they reconvened after the Capitol break-in. Romney did not vote to object to both states' votes.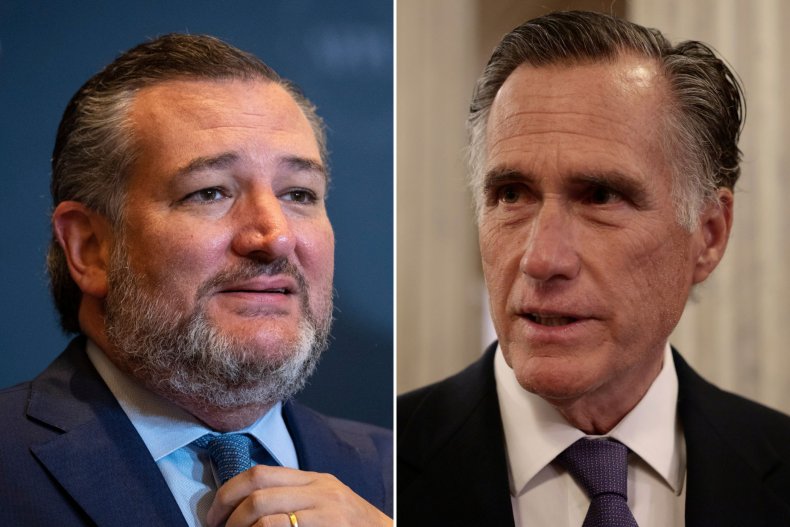 https://www.newsweek.com/mitt-romney-snarled-ted-cruz-jan-6-this-what-youve-gotten-us-1754064 "You gave us that!"