Your next favorite cozy game on Steam might be the nostalgic, sleepy Pine Hearts
Chock-full of upcoming games to try out over the weekend, EGX had a wide selection of indie games to check out, and most of them were incredibly impressive efforts from small, enthusiastic teams. Such a game was the most comfortable one Pine hearts which managed to make everyone who witnessed the gameplay smile.
Described as a teeny open-world puzzle game set in the sleepy countryside of Pine Hearts Caravan Park. Your character roams the whimsical world and explores fond memories of his childhood while solving environmental puzzles. It takes the item-based progression of the Zelda series and blends it beautifully with Souls-like level design, creating a game that's ideal for relaxing and simply enjoying.
During my short demo of the game, I arrived at the train station, entered the caravan park, and began to get used to navigating the area and getting to know the characters. As my character happily runs around, the first thing he encounters is an adorable puppy that barks at you from a distance to show where you need to go. And of course, when you finally catch up with him, you can pet him to ask for his help. Need I say more?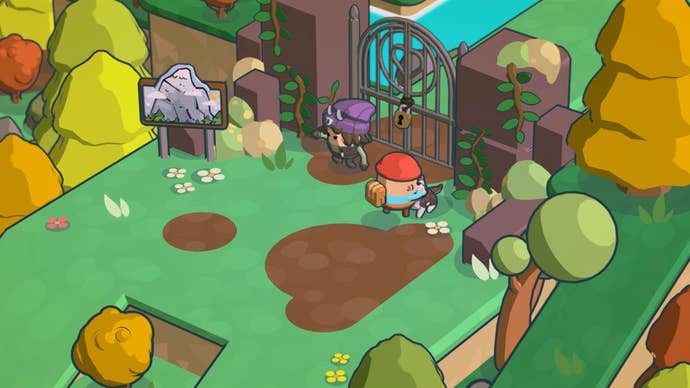 This is how your adventure really begins. As you collect new tools to help you manipulate the environment – breaking rocks, toppling trees, you know the drill – you can reach new places. Caves lead you to other areas of the Pine Hearts Caravan Park, and in some cases you explore your character's memories of the Caravan Park rather than the park itself.
Having also spent my childhood holidays at caravan parks, I have a fondness for the chaos of Butlins and all the different walks my family and I took during that time. It's very obvious that Pine Hearts is also trying to capture this feeling; Caravan parks (or any holiday destination really) and our experiences of them change over time, including Pine Hearts. However, that doesn't change our cherished memories of such a place, as Pine Hearts skillfully expresses.
As your cube-shaped character runs amok with a stupid grin on his face, I found it really hard not to smile along with him. Those who watched the game at the Hyper Luminal Games booth all expressed the same opinion; "It's so cute" and "Look how happy he is" and of course "You can pet the dog!" There were smiles everywhere, and one of the best things a game can do is bring joy to its players , and that's exactly what Pine Hearts definitely set out to do and successfully achieved at EGX over the weekend.
With an emphasis on puzzles rather than combat, it's a relaxing game with no real pressure. Your only worry is getting lost, but even then there are some beautiful scenes to witness and magnificent, almost familiar landscapes to discover.
It might even tug at your heartstrings, as a short, beautifully illustrated cutscene did during my time with the game; Our character and who we assume is his father share a moment together, and that's something I and others can relate to all too well. Since it's just a short demo that has an emotional pull for some players, I was really impressed and definitely look forward to seeing what more secrets – and bittersweet memories – Pine Hearts reveals in its sleepy, memory-filled space filled forests.
Pine Hearts is scheduled to release on Steam in the first quarter of 2024. So if everything is fine, we won't have to wait much longer before we can play it! You can add it to your wishlist now if you love the sleepy Pine Hearts caravan park as much as I do.