Youth football coach accused of hitting teenage player after 'heated' game
A coach struck a teenage player on the opposing team after a Youth Tackle Football Recreational League game in Murrieta, California, on Saturday, police said.
The postgame confrontation broke out on the field at Vista Murrieta High School and local police responded shortly after 5:40 p.m., the Murrieta Police Department (MPD) said in a statement Tuesday.
Eibylardo Funes, a 50-year-old coach for the Murrieta Broncos, was arrested on charges of assault and intentional injury to a child and accused of attacking 14-year-old Harlem Edwards, a Perris Panthers player.
Newsweek MPD asked for comment via email on Tuesday.
The teen's mother, Neenah Kaowili, told local media she watched as her son was "punched in the face" by the opposing coach.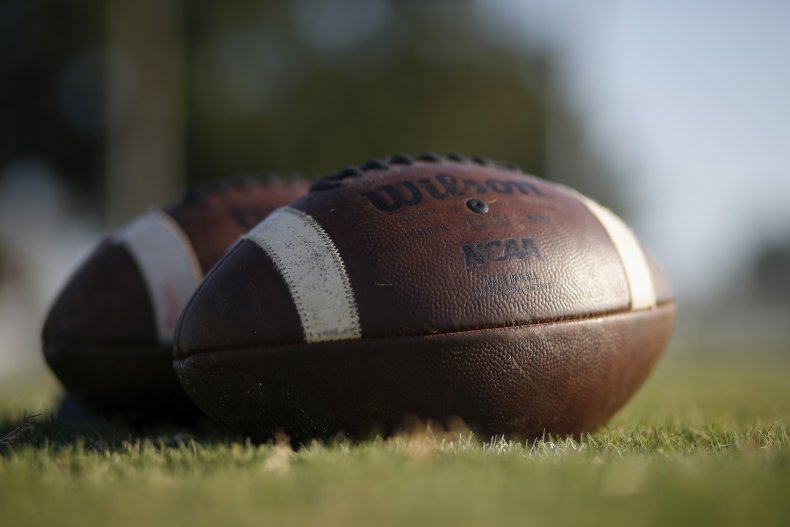 His mother told local station NBC4 she feared her son would never be the same after he recovered. Kaowili told Newsweek that she was not available to speak on Tuesday evening.
Edwards suffered a concussion and suffered a seizure on the field after being hit, a spokesman said Video posted by his mother on Instagram and Facebook. Edwards was still hospitalized Monday, but his condition was unclear Tuesday evening.
The youth league game was played at the high school, but did not involve a Murrieta Valley Unified School District coach. Newsweek emailed the president of the Murrieta Jr. All-American Youth Football League on Tuesday seeking comment and attempted to contact Funes.
Despite what she described as an "extremely heated" game, Edwards did nothing to provoke the attack, said Monique Moreno, youth football athletic director for the Perris Panthers Newsweek in a telephone interview on Tuesday evening.
She said that in her more than eight years of experience in youth football, she has never seen anything like the Saturday incident she recounted Newsweek was captured on the field's video cameras.
"I don't know why he even took the field so aggressively," Moreno said of Funes. "Apparently in the video you can see him running onto the field and I believe he first chases another kid and then makes his way to Harlem and Harlem is the one that gets hit."
Moreno said that although she wasn't originally at the game, she was asked to come onto the field by the Panthers' coaching staff, suggesting the Broncos had shown "a lot of aggression." She said the referees didn't do their job and "didn't control the game."
"I definitely send my love and prayers to her family," Moreno said Newsweek. "I know it was very traumatic for her, especially having her 10-year-old and her 3-year-old on the field watching their older brother on the ground."
Funes has since been suspended from his coaching position, the Murrieta Broncos confirmed to the Los Angeles Times. Despite the coach's suspension, Edwards' family and the Perris Panthers youth soccer community say it's not enough. They are demanding justice and calling on Funes to apologize.
"Take responsibility for what you did," Moreno said. "Apologize sincerely and sincerely. They hurt a lot of people that day. Their teenagers mocked my kids, mocked the coaches. My children were crying. My kids lay on the floor hoping their teammate would be okay. I think they should acknowledge it." That, and they should apologize. I think her chapter should be suspended. I think that will do us some justice."