Zelensky defiant as Ukraine says nearly 40,000 Russians have been killed since the war began
As the war entered its 151st day, President Volodymyr Zelenskyy seemed confident of a future victory for Ukraine, while the country's army claimed that the number of Russian military deaths since the invasion began on February 24 is nearly 40,000, figures , which were not confirmed by Moscow.
"Five months. After eight years," the Ukrainian president wrote on his Telegram channel on Sunday, referring to Russia's 2014 annexation of Crimea.
"The war has not broken Ukraine and will not break it. He has not stopped life in our country and will not stop it. And he will definitely not make us hostage to the terror the invaders have brought upon our land. We will not obey. We will endure. We will protect what is ours. We will win!"
The Ukrainian army on Sunday repeated the president's words, announcing that "Ukrainian artillery has the best specialists in landscape design" and that "the daily statistics of enemy casualties are proof".
"We're going to win!" they captioned their update on Facebook.
By July 24, the Ukrainian army said it had killed a total of 39,520 Russian soldiers and destroyed over 1,700 tanks and nearly 4,000 infantry fighting vehicles. According to the Ukrainian army, the Russians suffered "the greatest casualties" in the Kramatorsk region of eastern Ukraine.
The number of Russian troops killed, shared by the Ukrainian army, aligns with what NATO said back in late March, when the alliance estimated that up to 40,000 Russian troops had been killed, wounded, captured or missing were the war.
But it's hard to confirm those numbers because Moscow doesn't often share its troop deaths. The latest death count from Moscow comes from March 25, when Russia said 1,351 Russian soldiers had died since February 24.
The same difficulty exists with the death toll in Ukraine, since the country also does not share its own troop deaths. news week asked the defense ministries of Ukraine and Russia for their opinion.
The situation on the ground in Ukraine is just as grim and possibly less promising than the Ukrainian president's assurances suggest.
On Saturday, just hours after officials from Ukraine and Russia signed an agreement to get Ukraine's blocked grain out of the country and to world markets, the port of Odessa was hit by Russian missiles in an attack , which was condemned by the US Secretary of State Antony Blinken.
In areas occupied by Moscow troops, Russian authorities are preparing to hold referendums to incorporate those areas into the Russian Federation, according to a recent report by the Institute for the Study of War (ISW), a US think tank.
According to ISW, Russian forces continue to conduct limited ground attacks northwest of Sloviansk in the Donetsk region on Sunday.
On the other hand, Ukrainian troops continue their counter-offensive against the Russian invaders.
The ISW reports that Ukrainian forces are "likely preparing to launch or have launched a counter-offensive in the Kherson region starting July 23," although the institute states that "open-source visibility of the progress and pace of the Counter-offensive will likely be limited and delayed behind events."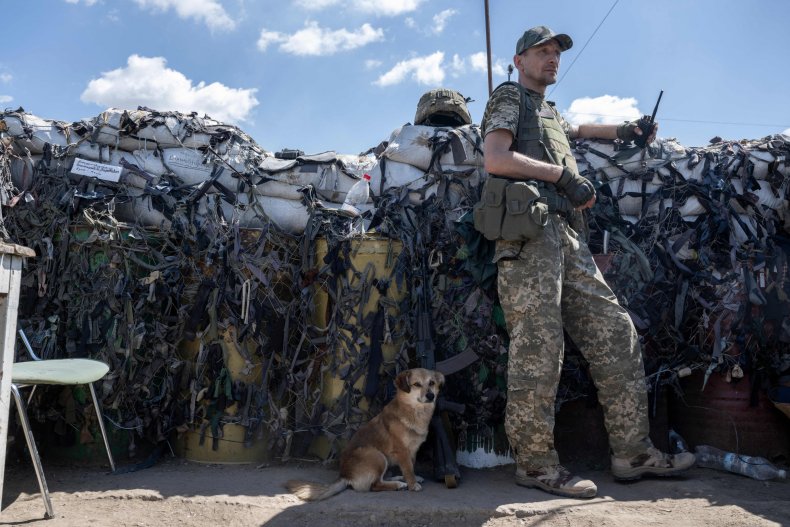 https://www.newsweek.com/zelensky-defiant-ukraine-says-nearly-40k-russians-killed-since-war-began-1727421 Zelensky defiant as Ukraine says nearly 40,000 Russians have been killed since the war began