Zelensky reveals five "key takeaways" from Biden meeting
Ukrainian President Volodymyr Zelensky revealed five takeaways from his latest meeting with President Joe Biden.
Zelensky met with Biden at the White House on Thursday, marking his second visit to Washington, DC since Russia began its invasion of Ukraine on February 24, 2022.
Biden announced an additional $325 million in military aid to Ukraine during the meeting and assured Zelensky that the U.S. would "continue to stand by" his country as the war with Russia continues.
The Ukrainian president is demanding far more help than he received on Thursday. Biden has asked Congress to approve $24 billion in aid for Kyiv, on top of $113 billion in aid sent since the war began.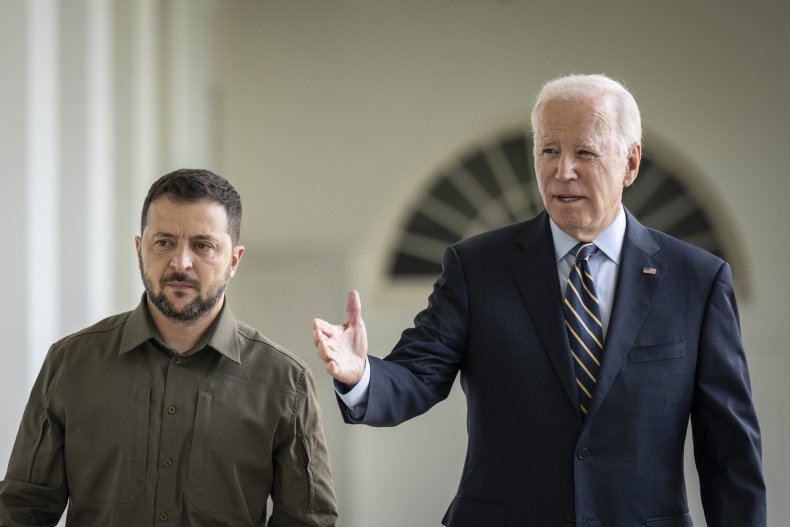 As his meeting with Biden ended, Zelensky thanked the US for the smaller aid package and listed the following five "key takeaways" from his visit:
"Today we have some important results. First, we agreed to work on Ukraine's future military force. This is very important. This is a strategic decision that will allow us to prevent any aggression against Ukraine…
"Second, we have reached a new agreement that will strengthen Ukraine's defense capabilities. Thank you, more details will be announced shortly…"
"Third, I thank the United States of America, Mr. President, for the new defense package for Ukraine. A very powerful package…it contains exactly what our soldiers need now…
"Fourth, the United States will help Ukraine strengthen our air defense this winter season…
"Fifth, we agreed on concrete steps to expand grain exports from Ukraine… Thank you, not only for this point, but for all of these points."
Newsweek asked the White House for comment via email Thursday evening.
Zelensky also met with members of Congress on Thursday. Senate Majority Leader Chuck Schumer told reporters that Zelensky said in a meeting with senators that Ukraine would "lose the war" if more aid was not approved.
There appears to be enough bipartisan support for approval of the larger relief package in the Senate and House, despite some strong objections from a minority of Republicans.
However, due to the current spending crisis among Republicans in the House of Representatives and the threat of a government shutdown, the chances of the package being passed soon are likely to be slim.
Continued U.S. military aid may be more important than ever to Ukraine's war effort, as Kiev appears to have lost the help of a key European ally after a bitter dispute over grain exports.
Earlier this week, Polish Prime Minister Mateusz Morawiecki said Warsaw would no longer supply weapons to Ukraine. Polish President Andrzej Duda compared the country to a "drowning man" who is "able to drag you down."