Zelenskyj travels to Rome to meet with Pope Francis and Italian leaders
ROME (AP) – Ukrainian President Volodymyr Zelenskyy arrived in Rome on Saturday for talks with Italian officials and Pope Francis. Pope Francis said the Vatican had launched a behind-the-scenes initiative to try to end the war started by Russia last year.
"Today in Rome," Zelenskyy tweeted. "Meeting with Italian President Sergio Mattarella, Italian Prime Minister @GiorgiaMeloni and Pope @Pontifex. An important visit in view of the upcoming victory of Ukraine! "
When Zelenskyy arrived at a military airfield at Rome Ciampino Airport, Italian Foreign Minister Antonio Tajani was there to greet him. Tajani told reporters that Italy will continue to support Ukraine "360 degrees" and push for a just peace that protects Ukraine's independence.
Italian Prime Minister Giorgia Meloni strongly supports military and other aid to Ukraine.
But while her far-right party, Brothers of Italy, champions the principle of national sovereignty, Meloni has to contend with leaders of two coalition partners who have openly expressed admiration for Russian President Vladimir Putin for years. Coalition partner Silvio Berlusconi, a former prime minister, has boasted of his friendship with Putin, while another government ally, Lega leader Matteo Salvini, has questioned the value of economic sanctions against Russia.
The meeting with Head of State Mattarella in the President's Quirinal Palace was the first official appointment for a visit to the Italian capital, which is expected to last several hours.
It is assumed that Zelenskyj will travel to Berlin next.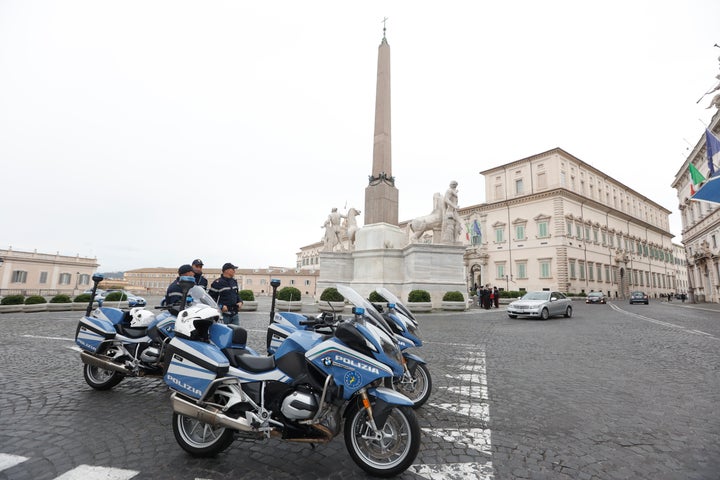 Zelenskyi's exact timetable has not been made public for security reasons, and the Vatican only confirmed a papal meeting just before the Ukrainian president's plane landed.
Italian state radio reported that as part of the protective measures, a no-fly zone had been imposed on the skies over Rome and police snipers were strategically placed on tall buildings.
Meloni met with Zelenskyy in Kiev, just before the anniversary of the full-scale Russian invasion on February 24, 2022.
Francis, who seeks peace, last met with the Ukrainian leader in 2020.
The Pope, in his words, keeps making passionate appeals to the "martyred" people of Ukraine.
When Francis flew back to Rome from a trip to Hungary in late April, he told reporters on the plane that the Vatican was involved in a behind-the-scenes peacekeeping mission, but gave no details. Neither Russia nor Ukraine have confirmed such an initiative.
He said he would like to travel to Kiev, the Ukrainian capital, if such a visit could be combined with one to Moscow, if a papal pilgrimage could serve the cause of peace.
Last month, Ukraine's prime minister met with Pope Francis at the Vatican and said he had asked the pope to help Ukraine get back children illegally taken to Russia during the invasion.
The German government, meanwhile, said it is providing Ukraine with more than 2.7 billion euros ($3 billion) in additional military aid, including tanks, anti-aircraft systems and ammunition.
The announcement came on Saturday as preparations were underway in Berlin for a possible Zelenskyy's first visit to Germany since Russia invaded his country last year.
Defense Minister Boris Pistorius said Berlin wanted to use the latest arms package to show "that Germany is serious about supporting Ukraine".
"Germany will provide all the help it can for as long as it is necessary," he said.
OTHER DEVELOPMENTS:
– A "massive" Russian barrage overnight damaged a power plant in Ukraine's western Khmelnytskyi region, Ukraine's Energy Ministry said on Saturday morning. It added that the electricity supply in the region was unaffected. The mayor of the regional capital said 11 civilians were wounded or injured by a Russian missile attack overnight. He added that "hundreds" of residential buildings in the city were also damaged in the attack.
– Russian forces resumed shelling of Ukraine's northeastern Kharkiv region on Friday and overnight, killing a civilian, local governor Oleh Syniehubov reported on Telegram on Saturday. Four civilians were killed in the same period in the Ukrainian frontline province of Donetsk in the east, Governor Pavlo Kyrylenko said on Saturday.
– Russian forces fired at least 21 Iranian-made Shahed drones into Ukrainian territory overnight, 17 of which were shot down, Ukraine's Air Force said on Saturday. One of the drones hit unspecified "infrastructure facilities" in western Khmelnytskyi region, the update said, likely referring to the provincial power plant damaged in the night's attack, according to Ukraine's Energy Ministry.
– Three civilians were injured in overnight Russian shelling in the southern Ukrainian city of Mykolaiv, the mayor said on Saturday. One person was hospitalized and the other two were treated at the scene. Several fires have been reported within the city.
Frank Jordans in Berlin and Joanna Kozlowska in London contributed to this report.
Follow the AP's coverage of the war at https://apnews.com/hub/russia-ukraine