Zelenskyy says "more and more" Russians are trying to flee as Ukraine advances
Ukrainian President Volodymyr Zelenskyy says Russians newly drafted to fight in Ukraine are increasingly choosing to flee rather than engage in a war they deem unwinnable.
Zelenskyy made the remarks on Monday in a nationally televised speech, in which he highlighted recent achievements by Ukraine's military and highlighted problems with Russia's efforts to reinforce its invasion with fresh troops. The Ukrainian leader's speech follows Kiev's efforts to encourage conscripted Russian soldiers to resist the fighting after Russian President Vladimir Putin announced partial mobilization last month.
"Fierce fighting continues in many areas of the front," said Zelenskyy. "But the perspective of these hostilities remains obvious – more and more occupiers are trying to flee, more and more casualties are being inflicted on the enemy army, and there is a growing realization that Russia made a mistake in starting a war against Ukraine."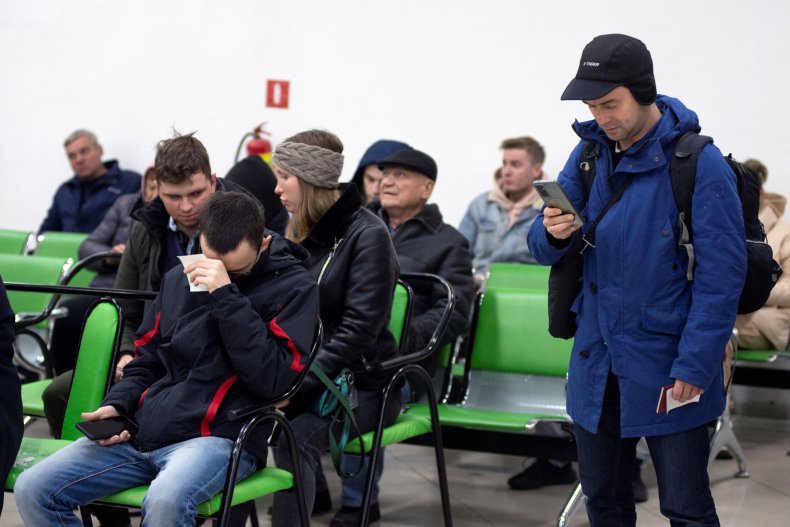 Ukrainian forces have retaken 2,316 square miles — about three times the size of Rhode Island — of occupied territory since early last month. The reported gains come from a counteroffensive by Ukraine launched in the north-east and south of the country over the summer.
Putin responded by announcing on September 21 that he would call up 300,000 reservists. The order was met with protests, Russians fleeing the country and reports of new troops being sent to the front with virtually no training.
In his speech, Zelenskyy referred to reports of Russians being sent to war unprepared, saying they were being sent to "replace the dead." He added: "As these newcomers die, more people will be sent. This is how Russia fights. That's how it will lose."
"None of those who are now being sent to war after being criminally mobilized will be able to explain: What does that get him personally?" said Zelensky. "Why would he risk his life?"
Andriy Yusov, spokesman for the Intelligence Directorate of Ukraine's Defense Ministry, said on national television last week that Russians are already calling a hotline set up by Ukraine and asking how they can surrender. Days later, Zelenskyy posted a video online appealing to Russia's ethnic minorities to resist being sent to fight in Ukraine.
Ukrainian troops halted their advance along the Dnieper River in the Kherson region, which is part of the counteroffensive, Russia's state-controlled TASS news agency reported on Monday. A Russian military official also told the outlet that Ukrainian forces had failed to breach defenses in the region.
Kherson is one of four regions of Russian-occupied Ukraine that the Kremlin is pushing to annex after referendums widely condemned as illegitimate. Putin delivered a defiant speech on Friday defending the ongoing war.
But Zelensky said in his speech: "No mock referendums, announcements of annexations, talks about the borders they invented and drew somewhere will help them."
news week has reached out to the Russian Defense Ministry for comment.
https://www.newsweek.com/zelensky-says-more-more-russians-trying-escape-ukraine-advances-1748590 Zelenskyy says "more and more" Russians are trying to flee as Ukraine advances