Zoo animals compete in Pumpkin Head Challenge with hilarious results
Animals at Drusillas Zoo Park near Alfriston in the UK have taken part in the popular viral Pumpkin Head Challenge with a series of adorable images.
To give the animals some Halloween spirit, this week zookeepers treated servals, monkeys, sloths, capybaras and otters to seasonal snacks in the form of jack-o'-lanterns.
As part of the animal's daily enrichment program, the keepers offered the residents pumpkin treats and decided to have a little fun at the same time.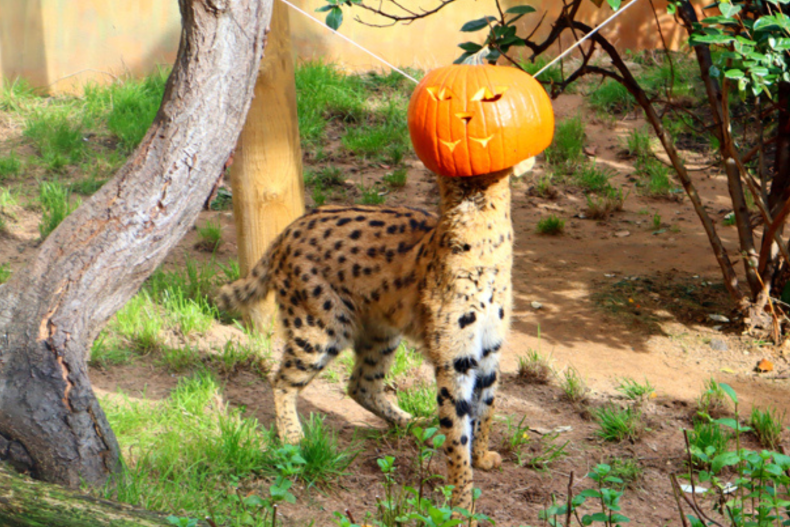 Zoo keeper Claudia Farley tells news week: "It is very important to us to provide stimulation and enrichment to our animals every day and many of them already have pumpkin in their natural diet. We try to mix it up every day and give them a new form of enrichment, whether it's scented with herbs and oils, puzzle gear, or food presented in new ways."
In the pictures, animals of all kinds are stuffed into pumpkin treats – but the zoo keepers went one step further and carved them out so the animals could compete in the well-known pumpkin head challenge.
First coined in 2021, netizens on TikTok began sharing seasonal images of themselves with cut-out pumpkins on their heads.
Hollow out a pumpkin, carve a face into it and place it on its head, the visual results of the challenge are hilarious as pumpkin people pop up in forests, pumpkin patches and even supermarkets.
The trend is back again this year as Halloween fans rush to take exciting pictures of their pumpkin-man creations and share them online – but few of them have as cute a factor as the Drusillas Zoo pictures.
While the results let the goalkeepers down, it wasn't just about having a good time.
"It may seem like we're just having fun, but it's actually a very important part of what we do to constantly offer new activities to stimulate their minds and encourage them to solve problems and engage in natural behaviors," explained Farley : "In the wild, they wouldn't just be given food every day, so this is a great way to get them to work for it."
The award-winning zoo is home to all sorts of exotic animals, including sloths, meerkats, monkeys and penguins. With spooky season fast approaching, Drusillas Zoo is gearing up for its annual Shriek Week event, where visitors can enjoy family-friendly Halloween attractions like haunted houses and a mummy maze.
With decorations scattered throughout the park, the team says no pumpkin decorations will go to waste after the big event. Any leftovers will be offered to many of the zoo's 800 animals to enjoy a special treat.
Do you have funny and adorable videos or pictures of your pet that you want to share? send them to life@newsweek.com with some details about your best friend and they might appear in our Pet of the Week lineup.
https://www.newsweek.com/zoo-animals-take-part-pumpkin-head-challenge-uk-1753920 Zoo animals compete in Pumpkin Head Challenge with hilarious results