Sunny Hostin falsely claims "good Samaritan" Elisjsha Dicken "broke the law" by carrying a gun into Indiana mall where he stopped a mass shooting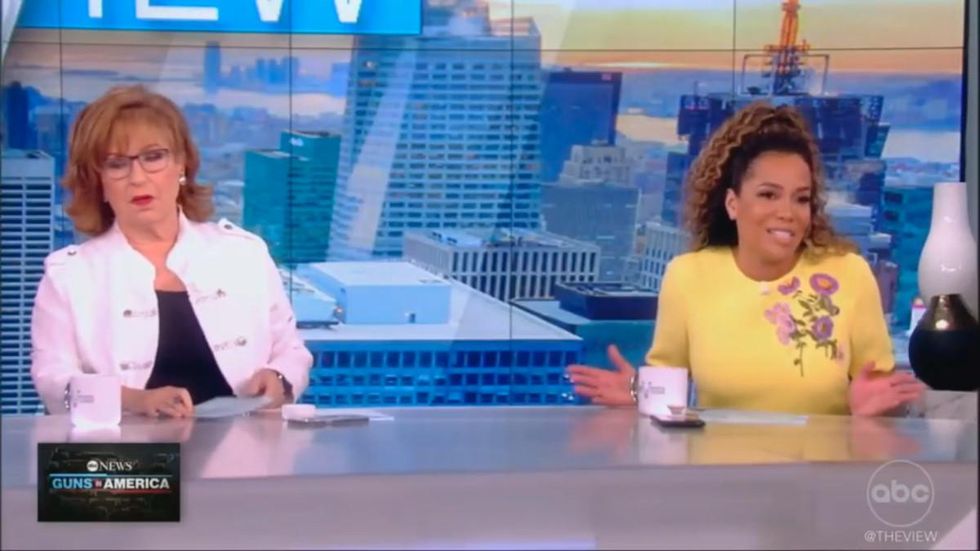 "The View" co-hosts attacked the "good Samaritan," who stopped an active shooter at an Indiana mall and misrepresented basic facts about the story, while dismissing the man's exploits as "lucky."
On Tuesday's show on ABC, Sunny Hostin falsely stated that 22-year-old gun owner Elisjsha Dicken "broke the law" by carrying his firearm at Greenwood Park Mall, where he used it to stop an active shooter , who killed three people and wounded two others with a rifle.
Greenwood city officials called Dicken a "hero" and emphasized that he "lawfully carried a firearm" when he stopped the shooter.
But the ladies of The View criticized the argument that a good guy with a gun is the only way to stop a bad guy with a gun.
"They say a good guy with a gun can control a bad guy with a gun. Well, we saw in Uvalde that's not true," Joy Behar said, referring to a recent report that nearly 400 law enforcement officers were at Robb Elementary School during the mass shooting in Uvalde, Texas, but were unable to stop the shooter, Whoopi Goldberg added that the same applies to the mass shooting at a supermarket in Buffalo, New York.
But Republican co-host Lindsey Granger pushed back on her narrative, mentioning that "we saw it's true in Indiana."
"It was true in Indiana. That was a happy moment," Behar said dismissively. "And you know what? Here's how I feel: If you're a good guy with a gun, you shouldn't mind background checks or licenses or, you know, the restriction on military-style guns that kill thousands at once. Or hundreds, decline once. So why can't they just do this?"
Later in the discussion, Hostin criticized Dicken for taking action to stop the mall shooter and brought up her own experiences with firearms training.
"But with that good Samaritan thing. Look, I was trained in firearms when I was in the Justice Department. And I was trained in defensive firearms training. It's very hard to hit a moving target," she said. "It's hard for people who are trained to hit a moving target. It's very fortunate that this good Samaritan found this moving target this way."
She went on to falsely claim that Dicken was illegally carrying his firearm.
"He had a gun license, but he wasn't allowed into the mall with a gun," she said. "So he broke the law even though he was a Good Samaritan."
Indiana became a constitutional carry state in March when Gov. Eric Holcomb (R) signed legislation into law Licensing obligation no longer applies to carry a gun. Anyone who could previously obtain a permit to carry a handgun is legally permitted in Indiana to do so without a permit.
The Indianapolis Star reported that Greenwood Park Mall has a no-gun policy, but attorney and gun instructor Guy Relford told the newspaper that Indiana's constitutional Carry and Stand Your Ground statutes protected Dickens' actions because he was acting to save the people the gunman targeted.
Likening the mall's policy to a "no shoes, no shirt, no service" sign, he explained that while a business can ask a customer who violates the policy to leave the store, no crime will be committed, unless the customer refuses to do so. In a case where the customer ignores the company's demand, they would commit trespassing, which is a crime in Indiana.
"So the fact that (Greenwood Park Mall) had a gun policy doesn't create any legal issue for [Dicken]' Reford said. "And it certainly doesn't affect his ability to use force to defend himself or the other people in the mall in any way."
This was a point Granger made to protect Dicken from Hostin's defamation.
"Indiana law is different than Simon Malls mall law. And I would say that's the priority when you're saving a life," she said.
Watch:

(h/d: news buster)
https://www.theblaze.com/news/sunny-hostin-falsely-claims-good-samaritan-elisjsha-dicken-broke-the-law-by-carrying-a-gun-into-indiana-mall-where-he-stopped-a-mass-shooting Sunny Hostin falsely claims "good Samaritan" Elisjsha Dicken "broke the law" by carrying a gun into Indiana mall where he stopped a mass shooting